The e-Sourcing Technology Roadmap To "Collaborative Optimisation"
An Example of an e-Sourcing Technology Roadmap
Let's begin by taking a look at how a mature user of sourcing technology views the way that the world of e-Sourcing is progressing. The following slide is from Maersk, who operate more than 1000 e-Sourcing Reverse Auctions per annum.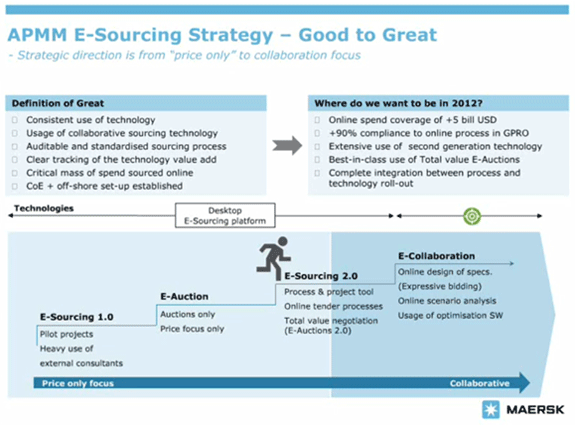 e-Sourcing is moving away from a price only focus to a more collaborative one, utilising two recent complimentary developments in e-Sourcing platform technology:
collaborative (or expressive) bidding; and
advanced award optimisation algorithms
The combination of these technologies has allowed the expression "Collaborative Optimisation" to be coined by AT Kearney.
Collaborative or Expressive Bidding
Expressive Bidding is a means of giving suppliers influence over more than just the price field in an e-RFQ/P. At line item level, customer's initial requirement are used as a baseline, against which suppliers can of course quote. However selectively against each line item, on a second line, suppliers are able to modify some of the elements of the customer's specification to collaboratively offer an alternative solution which may be even more value advantaged.
Individual elements of goods/services specifications
Delivery lead-time
Minimum order quantity
etc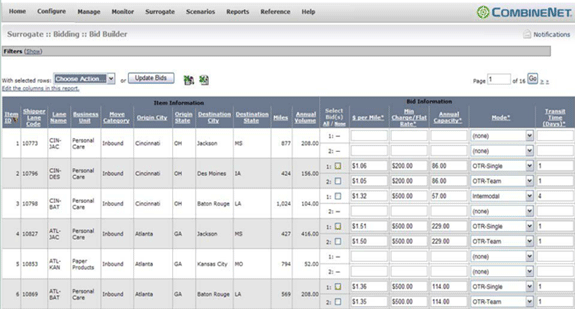 Additionally suppliers can configure the platform to create their own bundles with conditional if/then discounts or rebates.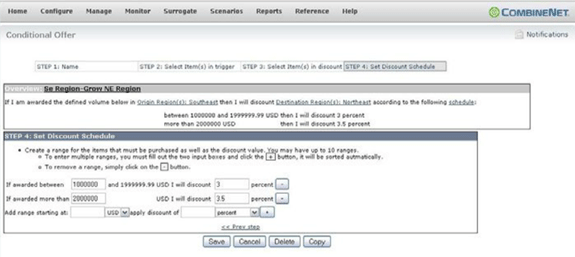 Building this degree of flexibility into an e-Sourcing platform makes the evaluation of such complex bids even more challenging than it already is. And that's where advanced optimisation comes in.
Advanced Award Optimisation Algorithms
So what is advanced e-Sourcing award optimisation? Trade Extensions use the following example to explain the principle.
In it there are three suppliers bidding for five contracts (or line items) A, B, C, D and E. No supplier is to be awarded more than three contracts, but two of the suppliers have proposed that if they received two or more contracts, they would provide an additional 10% discount.
So what's the optimum solution?
It should be easy shouldn't it ?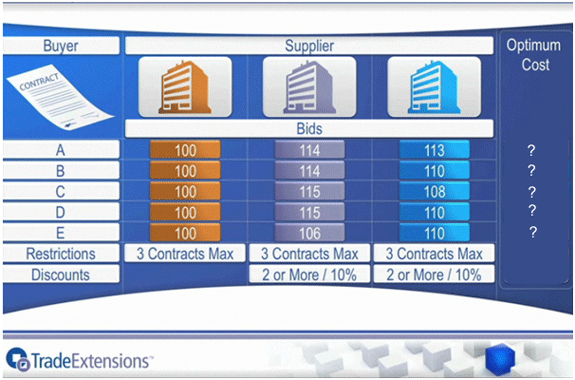 Even for such a simple problem, the answer is more complicated than you may have thought. If you tried that exercise, you'll have discovered that for even this simple problem with so few variables, a lot of computation needs to be done to work out the optimum solution.
Here's what the Trade Extensions platform would have given as the optimised answer.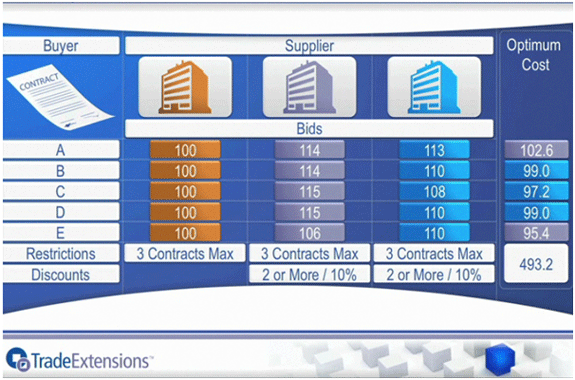 So, did you get 493.2 ?
Now imagine a transportation e-RFQ, for less than full truck-loads between thousands of network nodes (i.e. lanes) and twenty suppliers, each of which offers differing discount levels for various levels of business. If we want to know what the optimum solution would be for a maximum of two/three/four suppliers using the current generation of award optimisation algorithms, manually, the optimisation problem now becomes massive. With current optimisation technology, despite the complexities of supplier proposed discount structures these scenarios can now be modeled in seconds and evaluated by teams of stakeholders immediately.
Collaborative Optimisation Case Examples
Providers of "Collaborative Optimization" Technology
There are several providers of collaborative optimisation technology.
"Clearly, the two strongest best-of-breed candidates (without broader sourcing/procurement suite capabilities) in this category are CombineNet and Trade Extensions.... For suites, BravoSolution, Emptoris and Iasta all have advanced sourcing/optimization capabilities that are worthy of consideration, especially in the context of broader e-sourcing deployments". Source: Spend Matters: - A Foundational Look At The Evolution of Sourcing Technology and Platforms
More Information on e-Sourcing
Go back to the start of Interim Management Purchasing ?
© www .interim-management-purchasing.co.uk June 2012