Outsourcing, Offshoring, Nearshoring & Rightsourcing / Make v Buy
Introduction
This page outlines the resources and approach required for right-sourcing (Make v Buy) / outsourcing / offshoring and near-shoring business processes. The approach is largely common to both the outsourcing of manufacturing activities...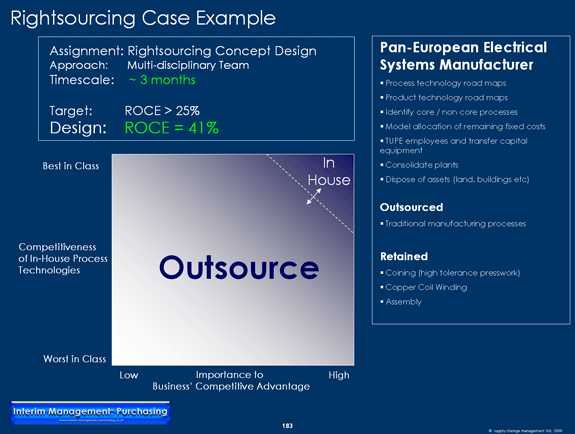 ...or the outsourcing of business support services.
For example, as part of a procurement transformation in the consumer goods industry for SONY Europe, a near-shore Procurement Operations Hub was introduced at WNS in Bucharest, Rumania. The Procurement Hub was responsible initially for SAP-SRM e-Procurement system help-desk support, master data management (MDM) and process monitoring across ~40 countries. Subsequently more value-add procurement services were trialed.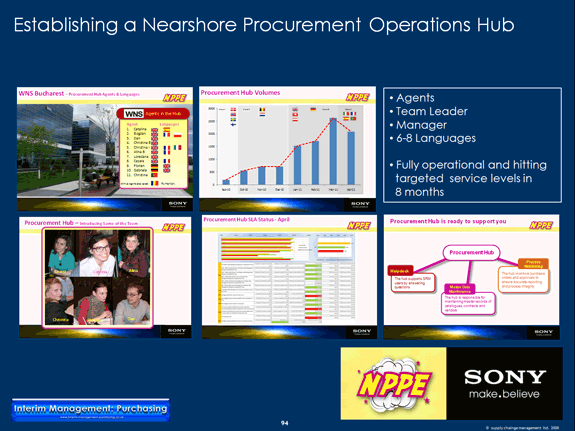 Skills Mix Required for Rightsourcing / Make vs Buy & Outsourcing
The required range of skills for such an assignment are quite diverse. It's usually best to use a multi-disciplinary team approach which collectively comprises of the following skills:
Purchasing / Outsourcing expertise - including supply industry research*
Process design expertise (e.g. lean business process re-engineering expertise)

*

Supplier relationship expertise

*

(to lead the development/improvement of the outsourced processes)
Expertise to develop the cost/benefit model

*

.
Project Management

*

In the case of IT process outsourcing a specialist IT Project Manager would be recommended.
Supplier Quality Assurance

*

Contract Drafting*
Expertise from within the processes which will be outsourced.
Operations manager/s (to lead the operational aspects of the outsourced processes)
Communications / PR
* Area of personal experience.
Diagnostic / Applying a Structured "Right-Sourcing" Methodology
. The selection of processes for outsourcing typically involves:
Defining core/non-core processes (i.e. 2x2 of Importance to business' competitive advantage i.e. impact on value/risk to the product/service offering vs. strength/weakness of current "in house" performance compared to that of specialists)
Process cost (often approximated by headcount) is a means of prioritising which processes that have been identified for outsourcing / off-shoring should be outsourced / off-shored first to ensure savings delivery is prioritised accordingly. Reducing costs / improving margins improves Return on Capital Employed (ROCE).
Capital investment requirements into the future. Outsourcing capital intensive processes reduces capital employed & improves ROCE even further.
Here's an example which relates to the first PowerPoint slide above.
Rightsourcing / Make v Buy Case Example:
Finished Products: Solonoids

Annaul Volumes: 1-2m

Target Return on Capital Employed: >25%

Development of manufacturing right-sourcing options

Engage with potential suppliers for each category

Model financial impact of right-sourcing decision

Develop design of structure and systems to support an optimised solution
Timescale: 3 months
Approach: Full time multi-disciplinary task force
Sponsor: Group Manufacturing Director
| Full Time "Task Force" Members | Part Time "Task Force" Members |
| --- | --- |
| UK Manufacturing Manager | UK Purchasing Manager |
| UK Manufacturing Engineer | UK Manufacturing Engineer |
| Engineering Graduate | US Plant Manager |
| Rightsourcing Consultant* | German Plant, Design Engineer |
| Junior Consultant | UK IT Manager |
* my contribution.
Results
Comprehensive rightsourcing strategy developed
Entire business architecture (systems & structure) redesigned at concept level
Developed finance model to evaluate impact of alternative rightsourcing options, including re-allocation of remaining fixed costs.
Programme of offshoring to the Far East commenced

Employees: 129

Projected Directs to Indirects Ratio: 2.5 to 1

Projected PBIT: 13%

Projected Return on Capital Employed: 41%
Subsequent execution of the rightsourcing strategy, including the launch of "task forces" to introduce lean manufacturing and business processes.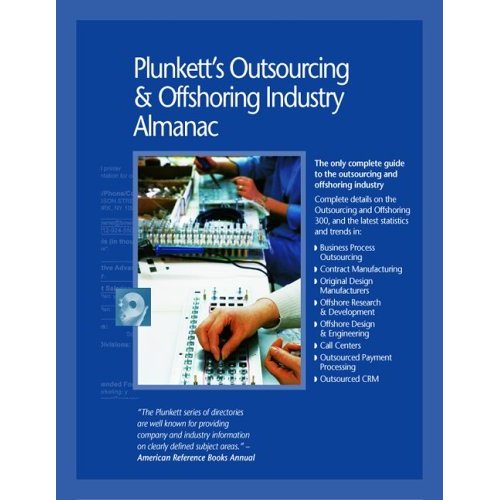 Strategy Development
Consider a DIY approach offshore vs an outsourced offshore solution (e.g. to mitigate the "Intel – IBM" risk ). General Electric and British Airways and took this approach in the mid '90s. These specialist "pure-play" BPO companies have now been spun off as GENPACT and WNS respectively.

Consider the impact on off-shore compared to near-shore solutions?

Identify the key cost/value drivers and derive the characteristics of best-fit suppliers

Identify the most appropriate form of relationship model from the supplier relationship continuum

Understand the mix of business processes identified for outsourcing / offshoring vs. mix of typical supplier capabilities; and the consequential impact on "segmenting the buy".
Segment the existing processes appropriately. Consider using approaches such as "Runners, Repeaters and Strangers" and understand what drives cost, value and risk, before deciding.

What do the technology roadmaps look like for product/service development and how will outsourcing / off-shoring affect this ?

What does the process technology roadmap look like and can an outsourced specialist provided bring significant competitive advantage to us as a result of being better placed in this regard?
Characterising the Specification of Processes to Be Outsourced, Off-shored or Near-shored
Process characterisation & re-engineering skills are particularly helpful here.
Many best practises for "business process" design are derived directly from best practise manufacturing process design. The principles are the same. Arguably manufacturing processes (in say the automotive industry) delivering quality levels of <100 defects parts per million (PPM) are often as demanding if not more demanding than many (even customer facing) business processes in service industries.
Identify all inputs and outputs for the "as is" process, video/screenshot/flow-chart the process and identify:
Bottlenecks & throughput rates
Failure Modes & Effects Analysis (FMEA)
Segmentation: e.g. Runners, Repeaters, Strangers etc.
Mix effects
Cycle times,
WIP levels, (& drivers of batch sizes e.g. process changeover times)
Planning and control mechanisms,
Major sources of non-value adding activities
Current KPIs (Quality, Cost, Delivery, Service, Innovation etc.)
Etc
Identify opportunities for process improvement (the possible "to be" process)
Risk Evaluation and Mitigation Workshop/s
Risk Workshop/s (based upon FMEA principles) can be a very helpful tool to brainstorm and size potential risks and then identify ways of mitigating them. It's key to involve the people running the processes; i.e. those who understand the process' inherent challenges.
Mitigation measures can then be proposed accordingly:
Mechanisms to prevent occurrence (e.g. process poke yoke/fool-proofing)
Use of six sigma type process control (to prevent errors)
Drafting of contract T&Cs to address some risks
Etc.
The output of this becomes a further input into Strategy Development.
Business Case Development
Develop the "Cost, Benefit & Risk Analysis" and model the potential financial benefits and the true costs (e.g. easy to forget to amortise cost of vacated domestic assets back onto existing operations). Don't forget to include proposed adjustments to the organisation design to direct and manage the:
supplier improvement / relationship management programme (strategic).
shorter term deliverables/priorities of the process (operational)
...whilst ensuring that neither roles tread on each others' toes. Furthermore, remember it's not just about today's cost benefits but the sustainability of the solution for the future. This means that a sensitivity analysis is needed to test the model for robustness (e.g. inflation rates, exchange rate fluctuations etc.). Don't forget that the outsourcing of capital intensive processes can help to substantially improve ROCE.
Develop presentation in preparation for:
Exec Presentation & Sign-Off
Developing a Draft Outsourcing / Offshoring Contract
This should be done in advance of the release of the RFQ and include:
Terms to mitigate risks identified from the Risk Evaluation & Mitigation Workshop/s
Proposed Term.
Clear service level expectations, (using appropriate standards for SLAs where appropriate)
What's the supplier relationship management scorecard going to look like (cost, quality, delivery, innovation, service, customer, other)?
How should the contract incentivise Scorecard improvements & disincentivise failure (risk / reward mechanisms)
Propose fair liquidated damages for service level failures in the event that costs are incurred.
Provide for early termination in the event of consistent failure
Etc.
Developing the Supplier Long-List
Use many sources of information on potential suppliers: information brokers, database hosts, directories, embassies
Many credible off-shore service providers have UK offices now.
Begin preliminary supplier conditioning
Developing the Supplier Short-List
Agree the specifics of long to short list screening criteria e.g.:
Fit of Supplier's Strategy
Financial Stability
Process Experience
Client References
Innovations
Etc.
Launch a (preferably) electronic request for information (e-RFI) to the long list
Develop the short-list
Begin multi-media supplier conditioning...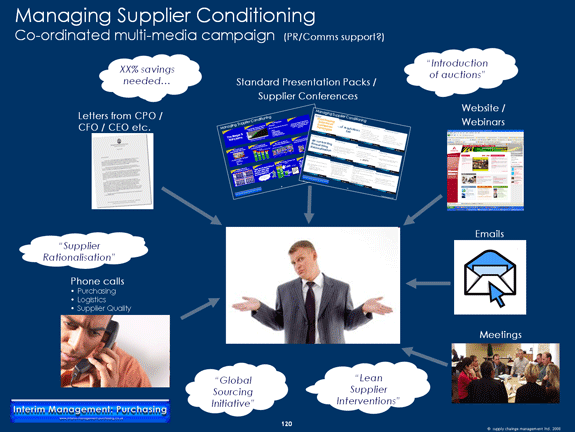 ....as a prelude to
Issuing & Reviewing the RFQ
Issue the (preferably) electronic request for quotation (e-RFQ)
Include full "as is" process characterisation and "to be" ideas
Request quote in accordance with draft T&Cs and the specification of the processes discussed above.
Supplier Qualification
Using a multi-disciplinary supplier qualification team; validate supplier capability in practise.
Substantial preparation is required to make the evaluation process a means of objective comparison.
It's particularly important for the team to include individuals with in depth knowledge of the processes as they currently run in-house.
Review the process capability of equivalent processes that the suppliers already support with particular attention to the key risks.
Supplier Selection
If a reverse auction may be used, this potential eventuality needs to have been incorporated within the "Rules of Engagement" of the e-sourcing process.
Implementation
Recruitment (if required) of the team to manage the outsourced relationship including:
Strategic supplier relationship manager/s
Outsourced operations line management
Contingency planning including back-up in the event of go-live set-backs.
On-shoring of the new process owners and key team members, to understand the process in situ.
TUPE and redundancy consultations (see below)
Process owners return to prepare the offshore environment
System test validation
Launch
Future Offshore Supplier Relationship Management
Outsourcing / offshoring isn't just about implementing an outsourced solution. It's about how the on-going operation will work in practise and how this is to be managed. So, key to making offshoring work is to have a realistic view of the practicalities of managing supplier performance, because the practicalities of managing an outsourced service provider are never as perfect as the sales presentations. Supplier relationship management is clearly made all the more challenging by the distance implicitly involved in offshoring. Offshoring is likely to involve supplier relationship managers spending substantial time offshore, working within the supplier's business on improvement initiatives, as well as running periodic scorecard review meetings.
Strong supplier relationship management tools/techniques are important here including:
Selection for Supplier Development Attention
Supplier Relationship Management Scorecards: KPIs for Cost, Quality, Delivery, Innovation, Service etc. See a specific example of a Supplier Relationship Management scorecard
Open Book Costing Audits , and
Bottom Up Cost Modeling
Supplier Management Team Shaping / Interventions
Full-Time Multi-disciplinary Step-change Task-force Interventions for Supplier Relationship Management
Continuous Improvement Workshop Interventions
Training Programmes for suppliers where the value of more direct intervention is less obvious (e.g. Small / Medium Enterprises)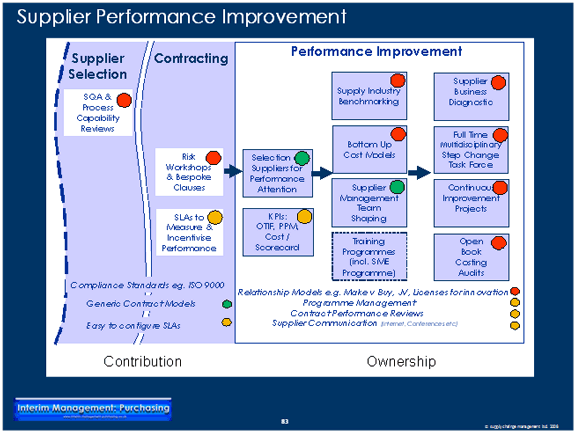 Communication
This should underpin the entire process. Weekly meetings with the project sponsor, and monthly/six weekly updates to the executive are appropriate throughout the process. Regarding those affected by the processes to be outsourced, it's arguably better to be transparent and run a formal communications exercise to explain what's going on throughout the process, than try to keep it a secret. Even if the need for regular communication delays the process somewhat the implementation is smoother as a result and the time invested up front in communication can smooth the downstream transition dramatically.
TUPE
TUPE is likely to be largely an academic issue, since it is highly unlikely that employees will transfer overseas. Nevertheless, from a legal perspective TUPE does apply even to overseas transfers (beyond the EU) following the Holis Metal Industries Ltd v GMB and Newell Ltd case. As such, employees should be consulted.
"TUPE is often ignored in offshoring situations, or is considered but treated as not applying. Frequently this approach goes unchallenged by employees, as it can be in the interests of the employees to be made redundant by the UK employer rather than be transferred to an overseas employer. However, parties who continue to ignore TUPE in an international transfer situation do risk exposure to claims under the TUPE Regulations, particularly in relation to protective award claims for failure to consult of up to 13 weeks' pay per affected employee".
Business Process Outsourcing (BPO) Presentation
Go back to the start of Interim Management Purchasing ?
© www .interim-management-purchasing.co.uk December 2012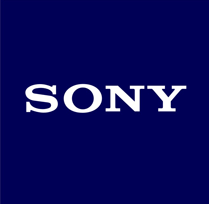 Excerpt from the Procurement Director of SONY Europe's reference following their procurement / purchasing transformation programme spanning ~40 countries:
"...David's inter-personal skills and style of management came to the fore, keeping the key stakeholders engaged and on board yet, delivering to the tight timescales. David brought to the team real professionalism with an incredible wealth of knowledge and expertise and a dedication and desire to get the job done, but importantly in the right way".
"Having worked with David for nine months, I would thoroughly recommend him for any Senior Procurement or Transformational role. His commitment, drive and energy, were a great addition to the team and I hope that I can work with him again in the future".
Full SONY reference