Reviewing and Improving a Supplier Relationship Management (SRM) - Scorecard for a Hard FM Supplier
SRM Scorecard Case Example: Hard FM
This case example is one in our Supplier Relationship Management (SRM) series, reviewing the scorecard previously used to manage a large Hard FM supplier relationship. It was selected because (as in many large / FTSE 100 facilities management (FM) environments) there were many thousands of assets which required maintenance. This makes Hard FM a particularly challenging (if not the most difficult) relationship to manage, if one is to successfully balance the demands of selectively driving value improvements, whilst avoiding micro-managing the supplier - a not uncommon failing. In this case then, this relationship between a FTSE 100 customer and its Hard FM supplier offers a demanding environment in which to begin to apply the principles of the common scorecard.
Key Issues Involved in Improving SRM Scorecards
Some of the key issues include:
Having a common SRM scorecard model upon which to base the objective comparison and incentivisation of disparate (including indirect) suppliers
Identifying the "vital few" value improvement opportunities for each supplier and baking appropriate KPIs into the scorecard to drive measurable value improvements. Often some lean process re-engineering diagnostic expertise is valuable here.
Dovetailing the design of a new scorecard's KPIs to align the supplier's performance with the operational needs of the downstream supply chain, whilst avoiding the micro-management trap (measuring the "trivial many").
Acknowledging the importance of corporate responsibility in relation to suppolier relationship management including environmental, health, safety and other legislative or ethical issues.
Understanding the practical implications of every KPI within the existing scorecard on supplier-customer behaviour by working closely with all stakeholders (including internal customers e.g. Facilities Managers) to objectively identify the supplier's relative strengths and weaknesses
Living with the existing data inadequacies; whilst buying time to improve the process
Managing stakeholders' expectations sensitively particularly during the transition whilst acknowledging that any supplier relationship management (SRM) scorecard will need to be adjusted for the purposes of "course corrections" periodically.
Case Example: Review of An Existing Supplier Relationship Management Scorecard
This is a selection of slides from a review of the scorecard previously used to manage a large Hard FM supplier relationship. In many ways the original scorecard was well constructed and was successful in incentivising the supplier to achieve set targets. As is often the case though with a "fresh pair of eyes" some improvement opportunities were nevertheless found, particularly in the way in which "productivity" was incentivised. The designers of the scorecard proposed some important improvements too.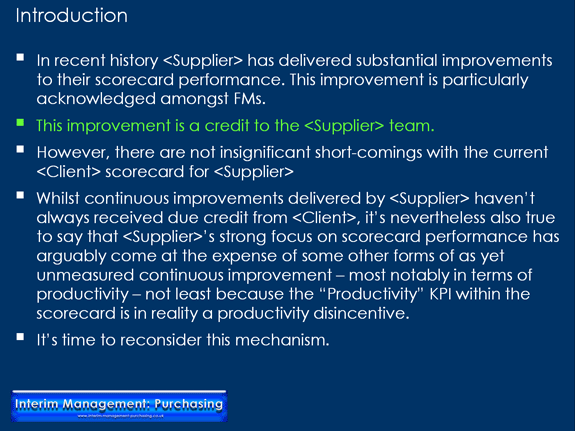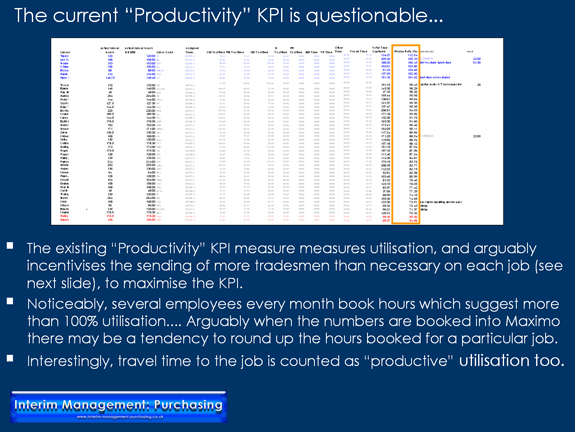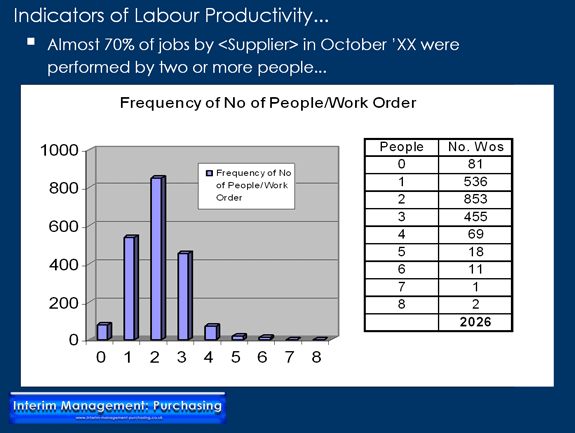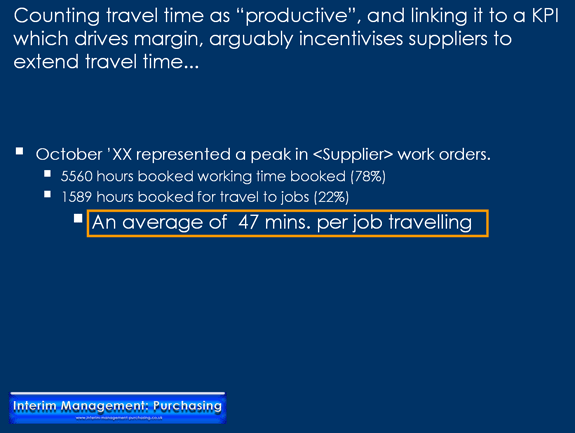 Short Term Opportunities for Improving SRM KPIs
Replace the so called "Productivity" measure, with a combination of "Cost" KPIs including;
Actual no. of hours booked vs. planned hours (where standards exist) by team for planned maintenance (PM) & statutory maintenance (SM) & statutory inspection (SI) work orders.
Although corrective maintenance (CM) work orders don't have planned hours against which actual hours can be compared, either:

standards could be developed for pareto families of jobs; or
a baseline could be established for the average time to complete a CM work order for each team and target the reduction of this time each quarter

Work order travel time doesn't have planned hours, to compare with actual hours (as above) – but similar approaches could be used as suggested above for CM work orders.
Measures of hours per asset (Planned Maintenance & Corrective Maintenance) for key codes which drive pareto hours – to identify which groups of assets drive demand for maintenance resource and improvements in methods to maintain key asset groups
Introduce:

a work identification measure*
value/cost/ savings plan KPI*
corporate responsibility metrics (including HSSE)
a measure which incentivises the accurate updating of Maximo asset data
a 5S measure to encourage improvements in housekeeping (a short-term issue which needed addressing)

Improve definitions for measuring the delivery of work orders via second tier suppliers and materials being ordered
Introduce measures on <Client> for:

more rapid approval of > £X00 work orders. <Client> is holding <Supplier> up.
elimination of Out of Service and Health and Safety Work Orders without "early warning" calls from <Client> call centre.

Amalgamate the current "margin for free" [ ] target with [ ] target*
* proposed by previous SRM.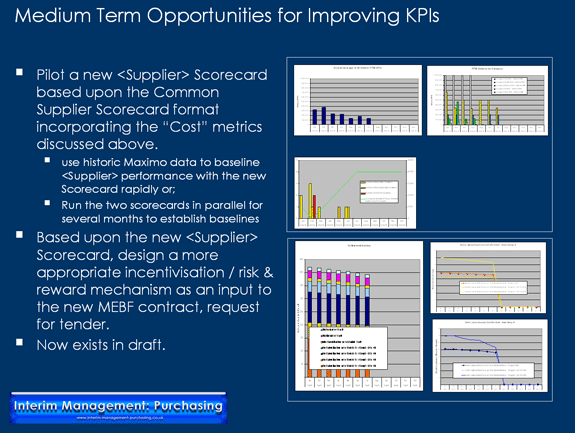 Revised Hard FM Supplier Relationship Management Scorecard
To illustrate how the principles of the common scorecard can be applied to a complex Hard FM relationship, the following was developed by way of example.
Revised Hard FM Scorecard (draft)
More Supplier Relationship Management (SRM) Information
© www .interim-management-purchasing.co.uk December 2012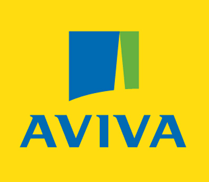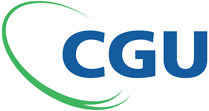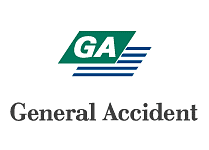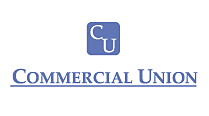 Supplier relationship management (SRM) was a major driver of performance improvement in the development the category management strategy for loss adjusters during a post-merger integration programme in the financial services industry.
Previously it had been impossible to compare supplier performance on a like for like basis.
Senior leaders from the approved supplier list of loss adjusters (the panel) were invited to attend a major workshop (about 40 people) to review and agree a common form of performance measurement and comparison - an industry first. Improvement Programmes comprised of several improvement initiatives, were then agreed individually with suppliers.
The client's finance team independently validated savings estimates of £ 3.5m per annum on the basis of this element of the assignment alone.
Within this broader financial services procurement category management transformation, the savings associated with resourcing loss adjusters were substantially greater than even this.