The Benefits of e-Sourcing
The Multiple Benefits of e-Sourcing
There are several benefits associated with the introduction of e-Sourcing platforms including:
increasing the savings delivered by sourcing projects,
reducing the cycle time of the sourcing process,
reducing the time spent on administering sourcing projects
improving knowledge management,
providing traceability throughout the entire e-Sourcing process,
developing a repeatable process,

etc.
The following table gives a good overview of some of the things that can be achieved.
AT Kearney's Comparison of e-Sourcing to Traditional Methods
AT Kearney make some impressive claims about e-Sourcing and whilst they give a flavour of what can be achieved, they're certainly not conservative enough to be used in a business case.
| | | |
| --- | --- | --- |
| Metrics | Traditional Sourcing | e-Sourcing |
| Percentage of Spend in Reverse Auctions | 0-10% | 80% |
| Percentage of spend sourced (includes all RFX events) | 0%-35% | 1000+ |
| Number of Events Per Year | 0-100 | 1000+ |
| Time Per Sourcing Event | Weeks or Months | Hours or Days |
| Savings | 0-5% | 15%+ |
| Geographic Reach | Local or Regional | Global |
| Key Suppliers Involved (%) | 0% to 25% | 98% |
| Time-frame Savings Realised | Months or Years | Days or Weeks |

For example, it isn't reasonable to infer from this table that by introducing e-Sourcing, savings will improve by at least 15% across the board. Indeed that's clarified in the same literature which states:
"Anecdotal evidence suggests that incorporating e-Sourcing technologies into an already well managed sourcing programme can increase savings incrementally by 5-8% on average". Source: "JumpStarting Your e-Sourcing Initiative" which in turn is based on evidence from Aberdeen, AMR, AT Kearney, CAPS & Spend Matters.
This statement may inspire even greater confidence for those organisations considering introducing e-Souring that don't yet have what they consider to be a "well managed sourcing programme".
Financial Benefits of e-Sourcing - Increased Savings From Sourcing Projects
It is certainly the case that e-Sourcing delivers impressive savings and its not difficult to find examples of these being publicised. For example:
In practise though, it's somewhat more difficult to say objectively how much in additional savings e-Sourcing delivers compared to traditional methods for a given category, because the processes are most often mutually exclusive. Consequently, we have to rely primarily on less stringent comparisons like the additional 5-8% quoted above. Here's what AMR Research said for example:
"Analysts have learned that simply by switching from paper-based sourcing to an electronic sourcing platform, you can increase your savings by 25%". Source Sourcing Progression, Part 3: e-Negotiation Vendors and Results, AMR Research, 2006 as quoted by BravoSolution
Please note, this doesn't say "increase your savings to 25%"...
Cycle Time Reduction Benefits
e-Sourcing can deliver a step-change reduction in end to end cycle times for sourcing projects. Investing more time at the beginning of the process to ensure specifications are comprehensive, events are configured unambiguously etc., pays back handsomely by massively compressing what would otherwise have been several rounds of time consuming face-to-face negotiations at the end of the process. In fact reverse auctions cram tens of negotiation rounds, (many more than a conventional process would allow) into about an hour. The CIPS sponsored report BuyIT e-Sourcing Best Practise Guideline proposes that e-Sourcing reduces sourcing cycle times by a third, on average.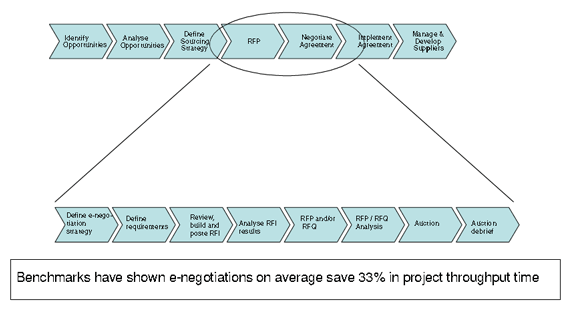 Reductions in Professional Administration Costs
The structured approach that an e-Sourcing platform engenders, encourages the repetitive use of templates for RFXs etc, which minimises the effort to take a category to market, once the first e-RFIs or e-RFQs have been set up. Moreover, because those templates are stored centrally in the platform and are not spreadsheets on a Category Manager's laptop, they can be used again, even when the Category Manager moves on to another role. AT Kearney claim that:
"Procurement organisations find they can do more with professional head-count, accelerating incremental savings, whilst reducing operational costs. We know of at least one top 150 corporation that reduced its professional procurement staff by more than 50% in the past eight years, after putting in place e-Sourcing practises globally". Source: JumpStarting Your e-Sourcing Initiative by AT Kearney
At its simplest level, this means that more sourcing events can be delivered in a fiscal year and therefore even more value can be delivered by Category Management teams.
Equally for categories where cost drivers change rapidly, (e.g. logistics, where suppliers' network architecture and spare capacity change daily) e-Sourcing events can be deployed more frequently (quarterly, monthly etc.) to take greater commercial advantage of market conditions.
Knowledge Management
One of the more overlooked benefits of a comprehensive e-Sourcing process is the knowledge management solution that it offers, almost as a by-product. As the information acquired through an e-Sourcing platform grows over the years; e.g. e-Requests for Information (e-RFIs), e-Requests for Quotation (e-RFQs) and reverse e-Auctions, it's all retained and available in a central repository. So the category expertise which is obtained through an e-RFI can be made available for years to come. The downside to this is that to maintain the availability of this information tends to lock a company into it's e-Sourcing platform provider.
Financial Justifications for Introducing e-Sourcing
The bottom line though is that because e-Sourcing platforms deliver such substantial benefits and subscription costs for capable e-Sourcing platforms are low, financial justifications virtually write themselves. For any environment where professional purchasing is justifiable, e-Sourcing should be forming a backbone of the activity. In many cases a platform will have paid for itself after the first events.
So justifying an e-Sourcing platform isn't the issue. The challenge is once you've got one, ensuring that you extract the maximum value from it by driving its successful adoption. See the article Implementing e-Sourcing Successfully.
More Information on e-Sourcing
© www .interim-management-purchasing.co.uk June 2012