Case Example:
Procurement Transformation - Automotive
Industry
Automotive.
Client
Global first tier systems supplier.
Role
Interim Purchasing Director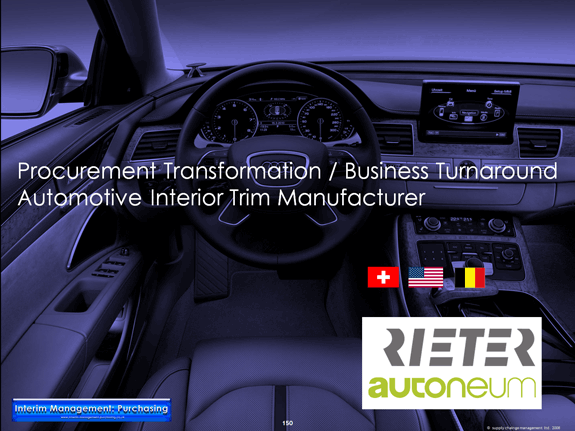 Background to Purchasing Interim Management Assignment
The business had been recently acquired by the Swiss multi-national client. It was unprofitable and a new executive turnaround team was recruited including: Managing Director, Operations Director, Purchasing Director and HR Director. The business was being starved of cash by its parent, to force it to make cost savings. Outside of the new executive team morale was very low. The purchasing team was transactional not strategic and was also responsible for managing inbound logistics and warehousing.
Key Activities as Interim Purchasing Manager
Conducted a rapid review of the spend
Diagnosed critical improvement opportunities
Decoupled purchasing from tactical logistics & warehousing, to concentrate on strategic purchasing
Empowered existing purchasing manager
Recruited new buyer with strong technical background internally
Introduced the tracking of published polymer indices
Coached new buyer to deliver 38% saving in LDPE polymer prices
Avoided £ 149k increases and delivered £ 325k "Quick Hit" savings in first three months
Led multi-disciplinary team to solve business's most critical supplier quality problem
Managed business continuity despite force-majeur situation at key supplier
Led capital purchasing project for specialist tooling
Managed challenging supplier payment situation carefully in conjunction with credit control manager
Introduced supplier of key polymer extrusion - 23% saving.
Contract extended twice
Offered the position on a permanent basis (declined)
More Procurement Transformation - Case Examples:
© www .interim-management-purchasing.co.uk December 2012




Rieter Automotive Systems has recently been re-branded as:



Autoneum is the global technology leader in acoustic and thermal management solutions for motor vehicles.
The company is a leading partner for the major light vehicle and heavy truck manufacturers around the world. Autoneum provides innovative and cost effective solutions for noise reduction and thermal management to increase vehicle comfort and value.